If you follow my accounts on facebook or instagram, you've probably already seen that on another vacation, I got an idea to take a bike.
Despite my wife's rather convincing and utterly negative arguments, the presence of a pram and the surprised eyes of our three children, I decided to take my bike from Almaty to Antalya. The head of the family said and basta!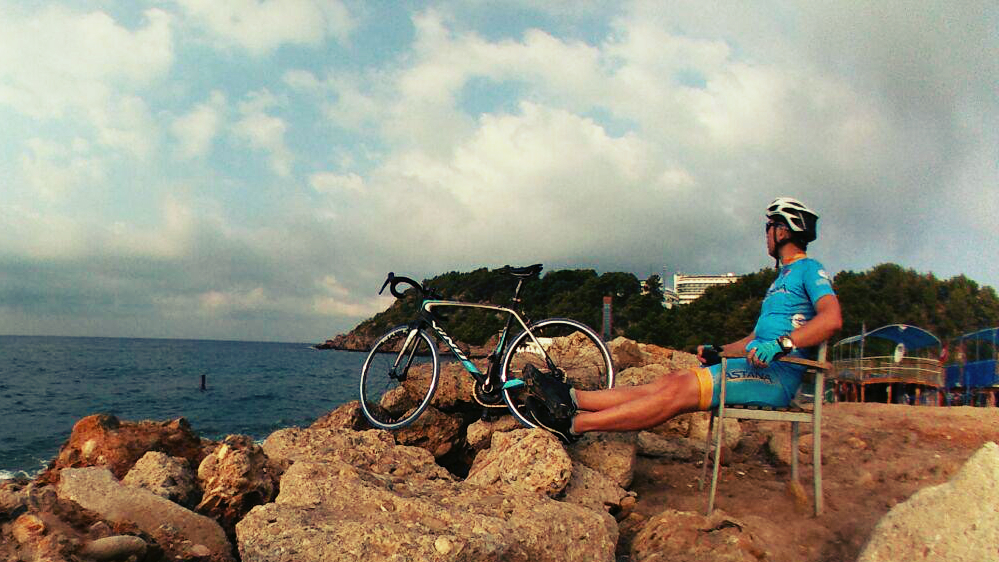 I will now try to tell you what the consequences of this decision were and whether you need a bike in Turkey.
PRICE FOR CARRYING A BICYCLE
First of all, you need to find out the rules for transporting your bicycle from the airline you are flying with. And most importantly, the price for transporting it. Some airlines do not charge a fee for transporting bicycles. Air Astana charges 15,000 KZT or 50 EUR per one way.
Perhaps the rules at Air Astana were written when 15,000 tenge was equal to 50 euro, but I preferred to count in tenge in this case, having paid 15,000 tenge in Almaty to the Air Astana ticket office for the bike to Antalya airport.
A mishap happened on the way back. In Antalya, the airport staff asked me for 50 euros. There was nowhere to go. The native Air Astana employees were not around and I had to pay 50 EUR instead of 15,000 KZT.
REGISTER YOUR BICYCLE
Be sure to call the airline you are flying with, even if you bought your ticket on some online aggregator website. A bicycle needs to be checked in as separate cargo. It is not hand baggage which can be carried inside the aircraft.
It is not a suitcase that should be with other suitcases in the luggage compartment. It is sports equipment that needs to be checked in as sports equipment. It can be fragile and expensive. Special care is needed here. If you use your agency, they will be happy to do this for you. After all, they communicate with airline representatives every day and it does not cause any problems for a normal agent.
TRANSPORT REGULATIONS
Usually the rules are that the bike must be packed for transport. This means removing the wheels, letting the tyre pressure down. Remove the pedals. It is advisable to pack the bike in a special case or pouch. If the case is hard, it removes the problem of bike safety. I had a soft case, which I was kindly provided by my friends at store Lab.ProTeam. Thank you very much for that!
Remember, it is in your own interest to pack your bike compactly and safely for transport. For example, I unscrewed the handlebar and secured it to the bike frame with straps so that it didn't protrude too much beyond the overall dimensions of the case. I also removed the saddle, as it was also sticking out of the overall package.
IF THERE IS NO COVER/CASE
I know that a lot of guys just transport their bikes in bicycle boxes. They take one from the nearest bike shop in advance and pack the bike in the box. It's convenient, practical and safe in terms of damage.
WHERE TO STORE A BIKE IN THE HOTEL?
The hotel staff took a long time to understand why I didn't want to store my bike in my room. I had to explain to them that I have three children, suitcases and a pram, all in a two-room room on the sixth floor. It would be difficult for me to go down and up every morning with the bike. Anyway, after a 15-minute explanation of the details, the hotel gave me a luggage room on the ground floor next to the main entrance. Normally this room is used to temporarily store luggage for arriving and departing guests. And now a strange tourist's bicycle was stored there.
IS THIS TORTURE REALLY NECESSARY?
Yes, definitely! During my holiday I managed to drive around all the major and minor roads within a 50km radius around the hotel. To see the life of the locals, which you don't see sitting in a hotel or visiting tourist spots. They were ordinary farmers who grew bananas, oranges and pomegranate. They don't grow apples, by the way.
My training was filled with the morning sea fresh air, the scent of conifers in the mountains and the singing of unfamiliar bird species. I managed to meet different people just because I was on a bike. People came up on their own, asking about the bike, asking where I was from — they were just curious.
And the main conclusion I drew for myself this time was that I would like my children to grow up sooner and we would travel with more than one bike.
I so wanted to show these beauties to my family, but when I got to the hotel and went up to my room, they were still sleeping quietly. So, this won't be my last trip with my bike!